Oh the aches and pains. Woke up this morning feeling every step from the day before. The knee was screaming, but we came here to hike, and hike we will. We took our time this morning, easing into the day with a good breakfast prepared by the patient husband. Basically, I haven't the patience to be a real cook. Unless it's ready in a hurry, or I can toss it in the oven and walk away, I'll burn it trying to make things go faster. So we agreed a long time ago that he's the chef, and I wash up. I packed up the backpack, in which I attempt to carry something for every single eventuality. Our goal today was to get Kate to do some hiking on her own, and to see
Rockhouse
, which I was pretty sure I'd never been to before. We started there. It was quickly clear that weekends are MUCH busier around here than weekdays. We saw more people this day than any other. This was also probably the steepest descent, and the Bug did it on her own two feet. One of us was always holding her hand, and the other had the dog. It was a bit treacherous, and we had to stop and most of the major sets of stairs to let people go up past us. Several people stopped to compliment Karl on his good behavior. We also saw more dogs this day than any other, and few were as well behaved as ours. After a rough descent, we finally reached the Rockhouse. Oddly enough, we almost walked right past it as we were so intent on keeping everyone on the path, and passing other people. It's such a steep rocky place that there are no signs or anything. You are expected to look up from the path and see the giant cave to your left. Duh!
Here is a picture someone else took on a day when the place wasn't quite as crowded as our visit: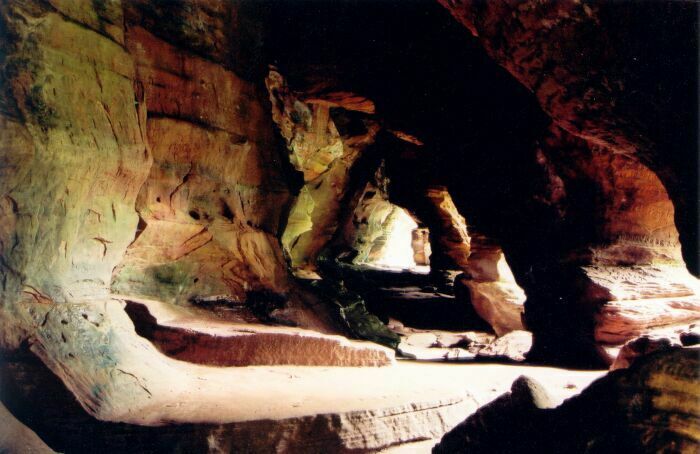 During our visit the whole place was packed from end to end. Kate and I left Daddy outside with the dog and explored the cave, and then we switched off. Daddy took some pictures of Kate in the cave that scared the crap out of me when I saw them later.
Yup, that's my kid sitting on a rock shelf inside a cave with NO ONE anywhere near her to keep her from falling. I am assured that the picture is an illusion and her feet were only a few inches from the rock below her. I am trying to believe this. Anyway, all four of us made it safely to the gorge floor, where Kate decided she was done walking. Into the backpack she went, and we hiked ourselves back out. At the top of the path we sat down at a picnic table for a short snack, and then packed up for one more cave. We wrapped up our park visits with
Cedar Falls
. Oddly enough on our first day, we took a wrong path and started toward Cedar Falls before realizing our mistake and turning back. On our second day we intended to hike to Cedar Falls but our stamina was flagging and we turned back, so one would think finally reaching the largest waterfall in the park would be kind of a big deal.
Yeah, that's barely a trickle. On the plus side, Kate hiked all the way down and all the way back to the car on her own to feet so we were pretty proud of her. In this picture Kate and Daddy have spotted a bee in the water. Buggy insisted they stayed there until the bee paddled itself to the shore and climbed out on the sand to dry his wings.
Our afternoon activity for today was a flea market which included a
used book store/coffee shop
: my version of perfection. Unfortunately, the place was not exactly as advertised. The flea market was packing up as we arrived and the permanent shops were shutting down and when we finally reached the used book store I discovered that there are more books in my living room than in this store. We even skipped the coffee shop part and had ice cream instead. I also bought a wooden train engine for Kate as her daddy had mentioned something about toys at the flea market, and I didn't think we could get away with driving home without one. After that we went home and Rick made dinner. The dog was much happier with a short stay in his crate.